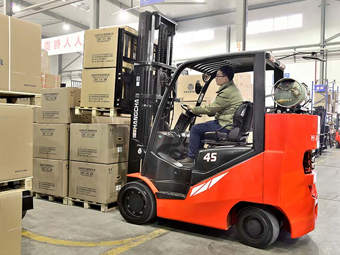 Dear Customers,
We are glad to introduce XF Series Cushion Tire Forklift Truck to you.
Load capacity range covering: 8000/10000/12000lbs
Models: CPYD35/45/55-XW24B-CB
Engine: PSI 4.3L LPG, Transmission: OKAMURA
Engine power: 105hp/77kW
Feature: High efficient and flexible, with compact design
Capacity 10000lb, length to face of forks 100.2in, Turning radius 87.8in.
High-strength suspension overhead guard.
Wide-view mast offering better visibility.
The travel speed of CPYD45-XW24B-CB can reach up to 12.8 mph, load capacity won't have any loss until the mast lift to 196.9in.
Other News